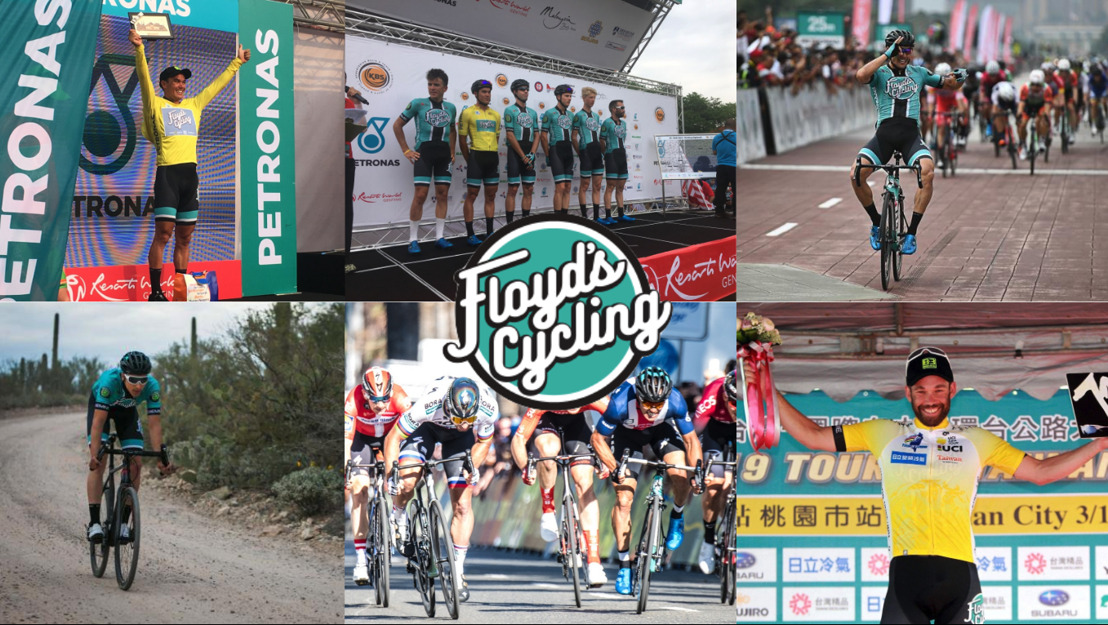 Floyd's Pro Cycling Can't Stop Winning
For the first time in 20 years, Floyd Landis' name has been a major feature of the North American road racing scene. Instead of racking up his own results, it's the performance of his eponymous team that's turning heads in 2019.
As of June, Floyd's Pro Cycling is the top North American team in the UCI Continental Team standings. The team has a solid list of race results including wins at the Tour de Taiwan, Tour of the Gila and Tour de Langkawi. Another impressive podium spot was taken by Travis McCabe in stage 2 of the Tour of California where he finished 2nd to Peter Sagan who took the win by less than a bike length.
Just as importantly, Floyd's Pro Cycling is providing a vehicle for racers to grow their love of the sport in ways beyond traditional UCI rankings.
In April, Nick Zukowsky and Travis McCabe notched 19th and 22nd place finishes at the Whisky Offroad Pro MTB race onto their belts, while Noah Granigan finished in the top 10 of the stacked Pro field at the legendary Dirty Kanza 200 gravel race in June.
These results are the product of a team that fosters a sense of fun just as much as the drive for results. Going into the team's inaugural season, director Gordon Fraser and title sponsor Floyd Landis were adamant about making this team different. Fraser, Landis and team GM Scott McFarlane are long-time veterans of the pro road scene and they have seen how the pro ranks can grind down young talent. Providing riders with a long leash to explore "alternative" races and a healthy dose of mentorship were baked in from the start.
This nontraditional format has reaped big results thus far, and we're excited to see what happens next as the team breaks to send nine riders to represent the US and Canada at their respective national road championships at the end of June.
The team will also be contesting the Leadville 100 trail race in August, delivering a dose of "hometown" excitement to their title sponsor Landis in his adopted town of Leadville Colorado.
FPC Riders to National Championships:
USA: Travis McCabe, Keegan Swirbul, Noah Granigan
CAN: Nick Zukowsky, Alec Cowan, Emile Jean, Noah Simms, Robin Plamondon, Carson Miles
FPC Photo Assets: https://echos.box.com/s/8c9q5kgpy1pu2g2chxnq5yb0t5zxj7wx
(additional photos available upon request)